Dias Quilters' Guild - Quilt Show 2022 Cancelled
It is with regret that I have to inform you that during a special virtual meeting held at 19:00 on 14 June 2022, the Committee of the Dias Quilters Guild, made a unanimous decision to cancel the Dias Quilt show planned for 5 – 9 July 2022.
The reasons for the cancellation are the following:
The National Quilt festival will be held from 4-9 October 2022 in Stellenbosch
Insufficient quilt entries for the DQG show
Insufficient bookings for workshops on offer
Vendors cancelling participation in the show
Post COVID pandemic with recurrent waves, economic challenges and current fuel prices
Unpredictable loadshedding and severe drought in Port Elizabeth
The committee further decided that the Dias Quilters Guild will host a Spring Show in 2023 and every two (2) years thereafter. 
A show will not be hosted in the same year as the national festival.
Workshops
Workshops presented by Angie Weiswange, Erina von Gordon and Macky Cilliers will go ahead as planned, but with the venue changing to Skatkis Lap. 
Claire Wallace will present all her classes at Terrence Urban's house.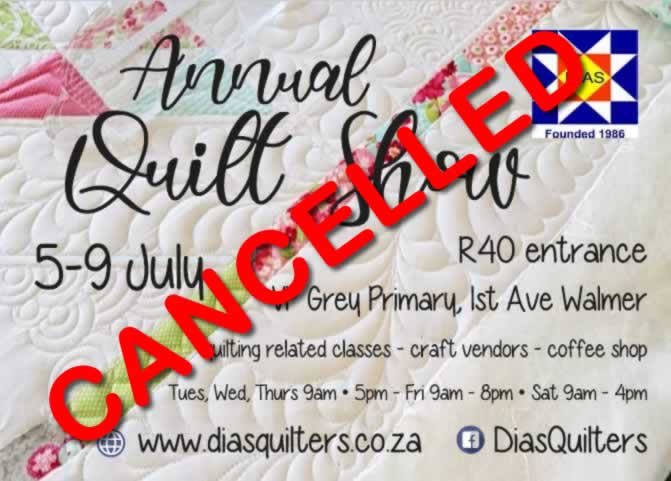 We sincerely apologise for any inconvenience that this decision may have caused.
Bookings open:  16 April 2022
Full payment required upon booking.
EFT:  Dias Quilters Guild
         Standard Bank
         Branch Code:  055 117
         Account no:  281 666 199

Ref:  Your name and class (e.g. A Kriel Mini Aloe)
Send bookings and proof of payment to:  Antoinette Kriel info@sewingatthec.co.za  OR WhatsApp to 083 556 3043    
Class requirements will be sent once proof of payment is received.
Bookings close:  17 June 2022
Contact Antoinette Kriel – 083 556 3043 or info@sewingatthec.co.za for any queries.